Unlock the power of your website or social media
Simplify your enquiry and registration process
Book visits, and register children straight from your website or social media.

Make parent enquiries & registrations simple so you book your places subject to availability.

Track and manage all your enquiries and see your conversion rates or how parents heard about you so you can focus on your best marketing channels.
Try it for free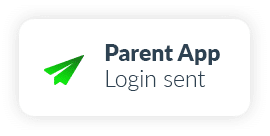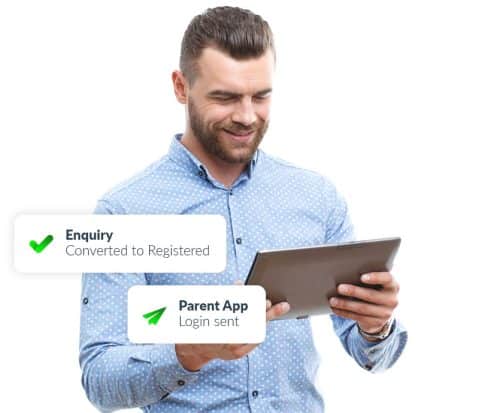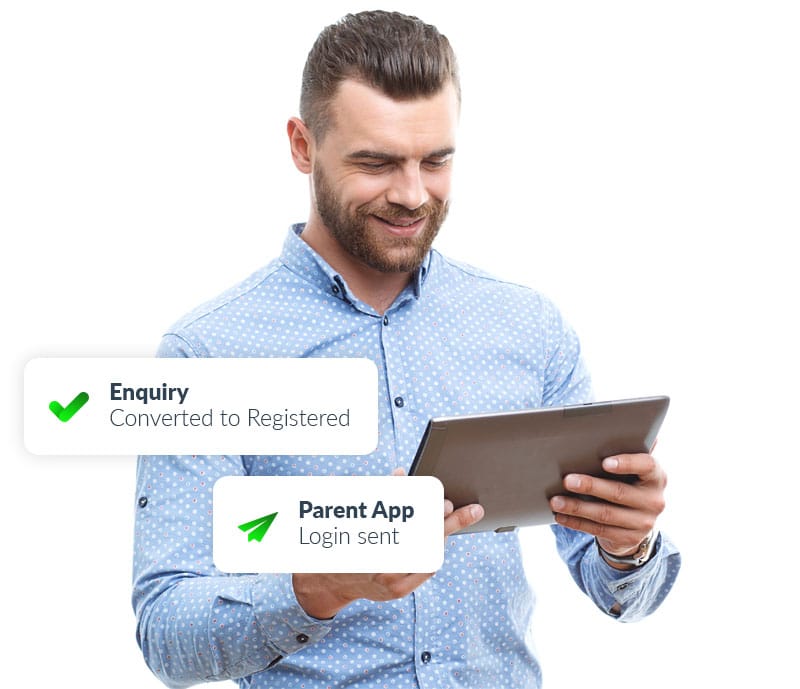 The power of social media is it forces necessary change.
Erik Qualman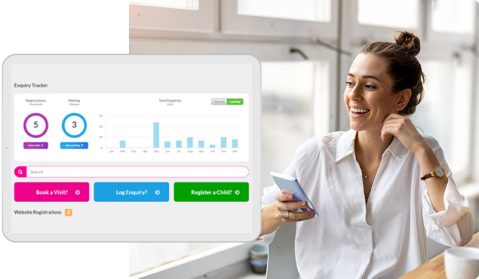 Fill your places faster
Enquiry tracker
Track and manage all your enquiries and registrations in one place to improve your registration conversion rate.
See your enquiry and registration statistics with ease so you can focus on areas to improve.
Powerful marketing reports and insights help you to fill those places faster and increase your occupancy levels.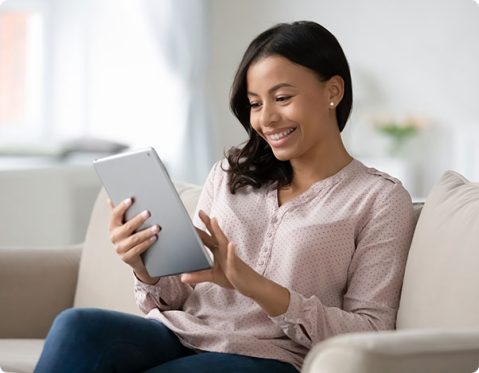 Improving your occupancy with
Enquiry conversion rates
Track your enquiry conversion rates to see how well your team are managing their enquiries.
See your best conversion rate by source and who in your setting converts the most childcare enquiries.
As a rule of thumb we would recommend you aim for an 80% conversion rate as a benchmark unless of course you are managing a waiting list, then it's happy days.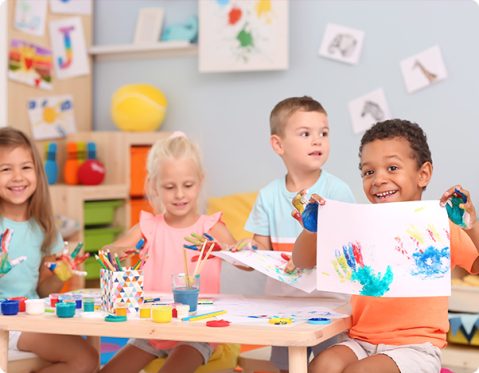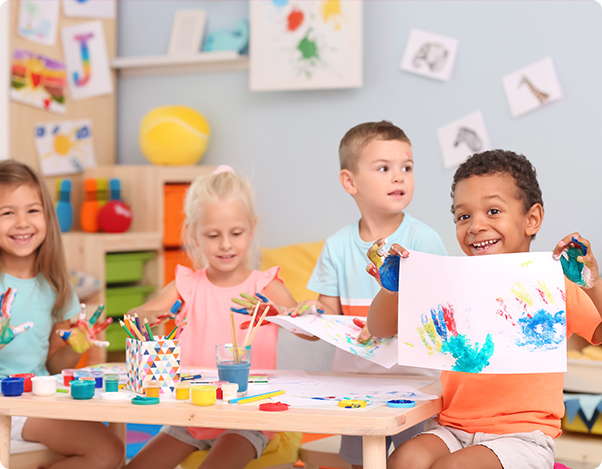 Track your best marketing tools
Enquiry source
Find out which marketing tools work best for your nursery or preschool, whether that's word of mouth, banners, social media, etc. the answers will soon become clear to you.
Powerful reports and insights so it's clear to see which marketing channels work for you so you can do more of it and get rid of the stuff that's not working.
See where your parents live and how they heard about you, so you can target specific local areas to focus your marketing efforts.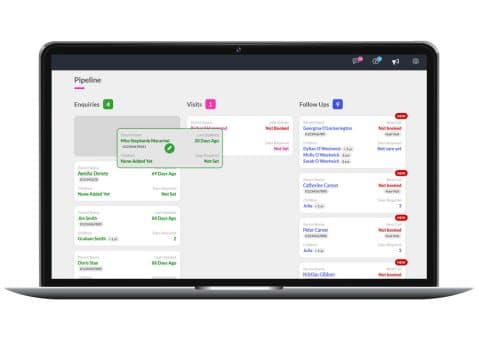 Keeping you in tune with your marketing
Enquiry pipeline
See how many days it takes for an enquiry to convert into a registration so you can focus on enquiry management and chase up accordingly.
You can drag and drop between the three different pipeline states to action things faster. For example, once a parent has had a nursery visit, you can drag it to follow-ups, and then add a log with a callback date and time as a reminder.
Send follow-up notifications to check how things are progressing and to stay connected with your parents whilst they decide which childcare place to choose.
Get started today
We get to live in a time that we get to use social media as a tool.
Gigi Hadid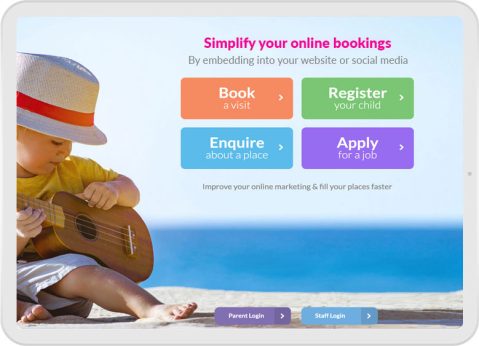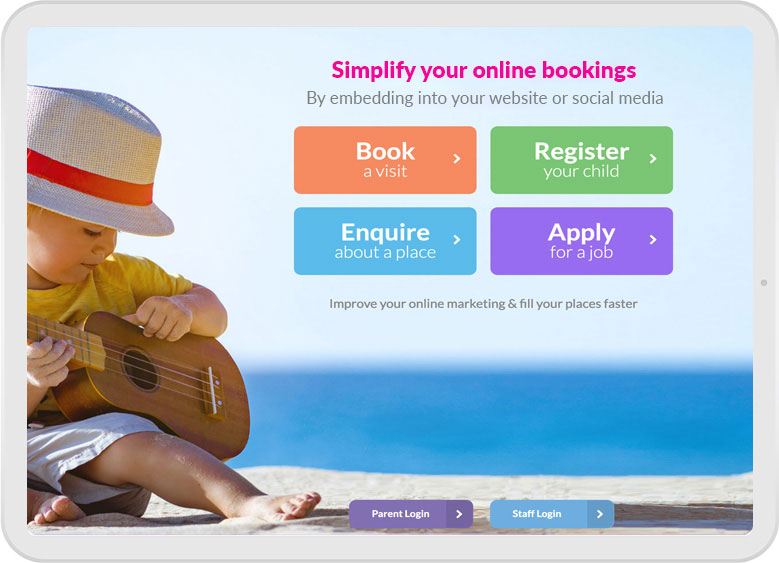 Book or register straight from your website or social media
Powerful online booking system
Maximise childcare enquires, registrations, and book show round visits straight from your website or through your social media platforms.
You can then manage all this in one place through the Nursery In a Box management system using the enquiry tracker.
Link online forms onto your website or social media with ease and start managing your results live and in real-time.
See how they work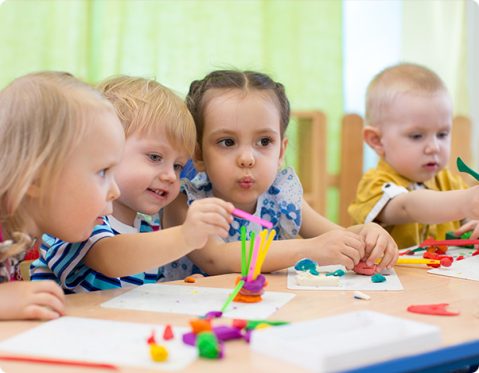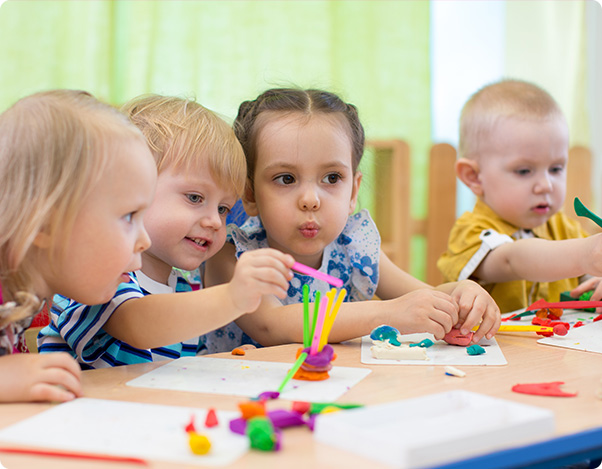 Digital registration forms
Registration made simple
Go paperless with your childcare registration forms and allow parents to register online straight from your nursery website.
Minimise admin and paper based filing with all your registration forms stored safely and securely in the cloud.
Our registration form tracker helps you manage the registration process so you can see the status of each registration and check any digital signatures missing. Link these to your terms and conditions, so no more paper T&Cs.
Digital registration forms completed by your parents to keep registration details up-to-date and in compliance with Ofsted and GDPR requirements.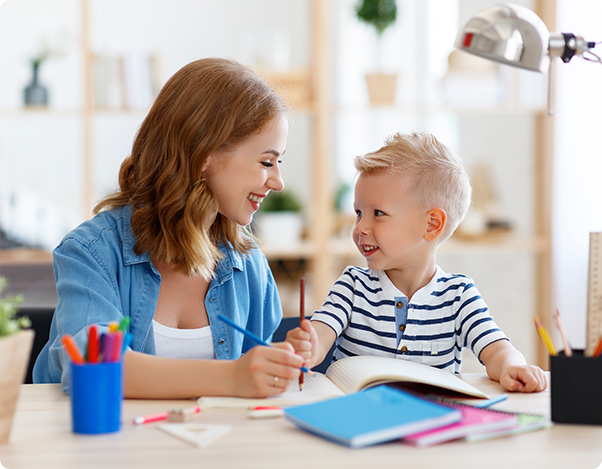 Auto sync with your manager's diary
Visits booked
Allow parents to book show round visits to your nursery straight from your website or social media. If they turn up without a booking it's simple and easy to log a visit so you never miss a follow up.
Visits drop smoothly into your manager's diary with email notifications sent automatically to your parents and manager confirming the visit time and date.
Manage visits & follow ups and focus your visit training with show round prompt cards and military precision to maximise the opportunity.
Try it for free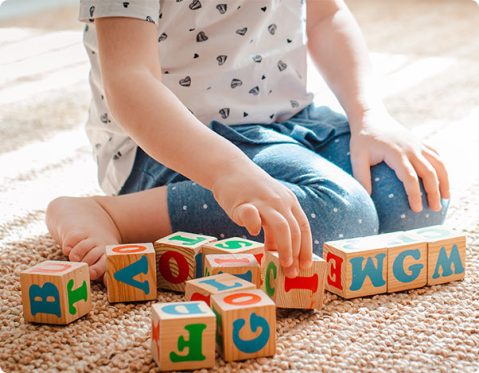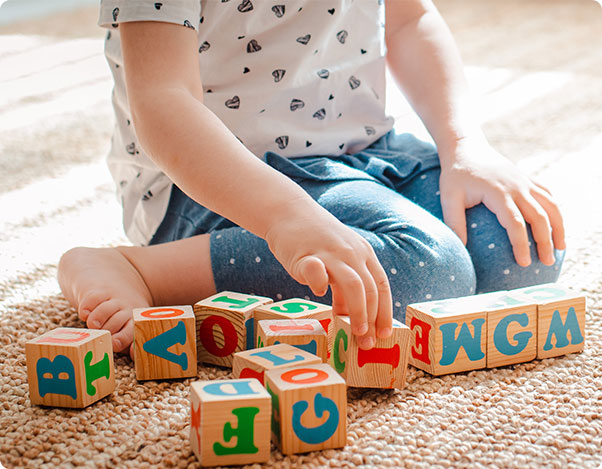 Manage your waiting list
Waiting List
Manage your waiting list with ease by sibling, by sessions or by how long they have been waiting – it's up to you.
Enquiries automatically get dropped into your waiting list until you have places available or register straight away.
Allow parents to register from your website or social media so you have their details ready and waiting.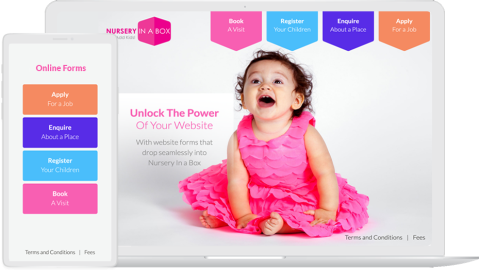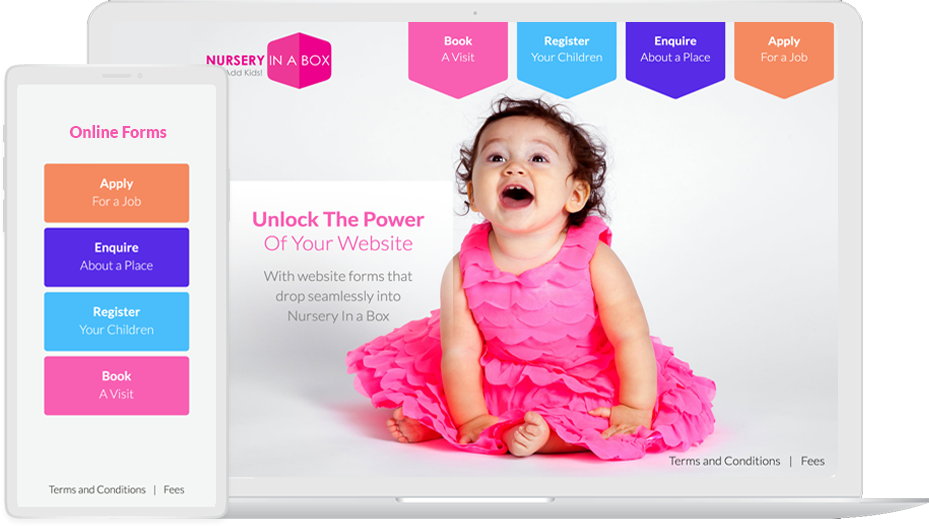 Make life easier for parents and staff
Why use online forms?
Improve your online marketing and fill your places faster
Allow parents to book visits, register or enquire 24/7
Allow staff to apply for a job online any time of the day
Track enquiries, visits, registrations and job apps through Nursery In a Box
Easy to integrate into your nursery website or social media
No extra cost
How it works
To improve your online marketing
How Online Forms Work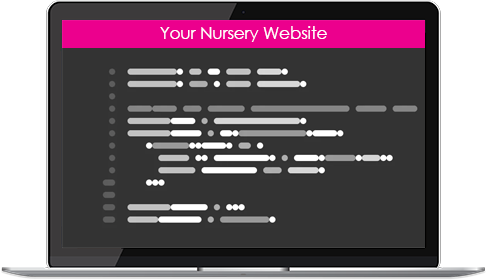 Embed the Forms onto Your Website or Social Media
Use the personalised scripts and give them to your website developer to put them onto your website or social media.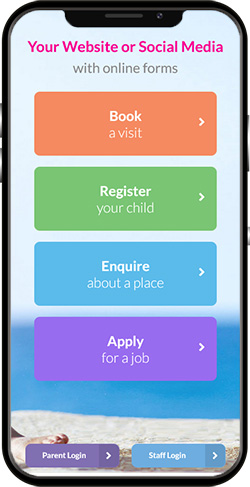 Decide Where The Forms Go
Put the buttons in a prominent position so it's easy for parents and staff.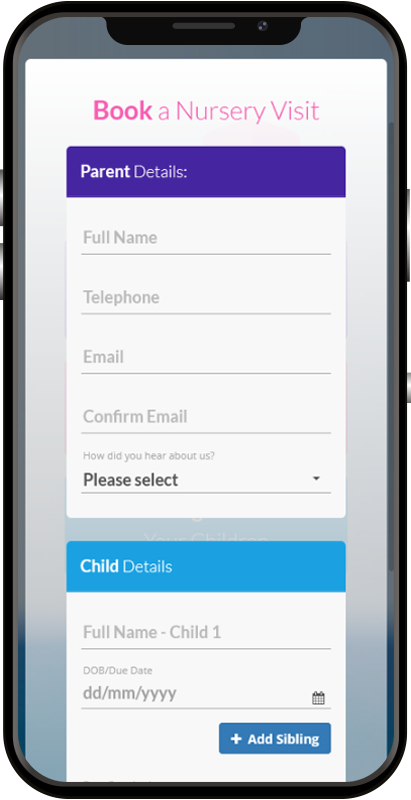 Online Enquiries, Visits, Registrations & Job Applications
Your parents can now enquire about places, book visits and register their children all through your website.
Staff can also apply for a job using the embedded job application form.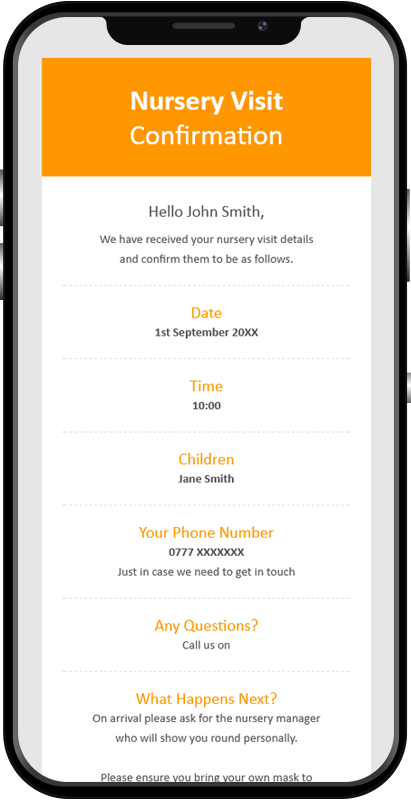 Auto-Reply Email to Parents
With each enquiry your parents and nursery receive an automated response email.
This updates your manger's diary and the enquiry tracker so you don't miss anything.
Track Enquiries, Visits, Registrations and Recruitment
Use our Enquiry Tracker to manage your enquiries, visits and registrations through Nursery In a Box.
Use our Recruitment Tracker to manage your job applications through HR Admin.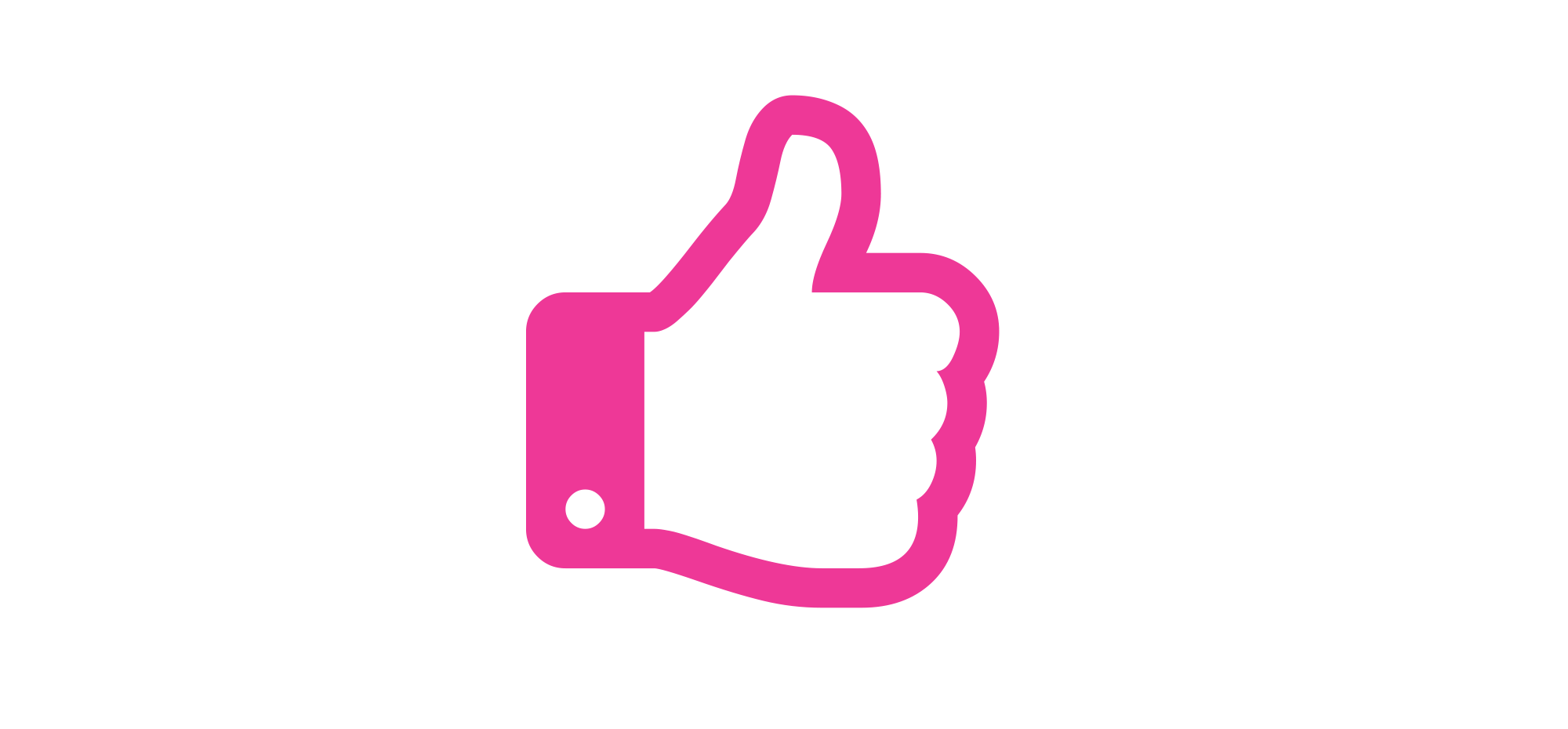 Customise Your Visit Times
Manage visit times, days and enquiry source through your admin.
Once you're happy, all the changes will automatically be pulled through to your website forms and you are ready to go.
Makes it easy for parents and staff to book, register or apply online
Powerful online booking system 24/7

Register Online
A complete online childcare registration form that drops seamlessly into your Nursery In a Box software.
Book Online
Show rounds can be booked directly from your website and drops into your Nursery In a Box software effortlessly.
Apply Online
Allow staff to apply for jobs directly from your website and drops into your nursery management system.
Nurseries love using our software

Nursery management software reviews
Amazing service - I sent a support ticket with a quire and was expecting an explanation of possibly how to sort it - instead within 10 minutes, the problem had been rectified by the NIAB team saving me valuable time and stress!
Siobhan Pick
11. April, 2023.
This software saves us so much time and effort for running our nursery. Their team are so responsive with any issues or questions we have and usually respond with a solution within minutes. Highly recommend!
Nicola Francis-Bown
22. January, 2023.
We have used Nursery in a box for a number of years and have always been pleased with the service. Every enquiry we send however minor is always dealt with promptly and professionally. parents have also given us positive feedback using the app. if your look for a provider then we would highly recommend nursery in a box x
Wonder Years Day Nursery
21. November, 2022.
We've been using Nursery in Box for a few years now and really love it. It's a great System to use and they are great with support when it's needed. They are constantly upgrading quite regularly too.
Baldersby Park Montessori Nursery
3. November, 2022.
I have always found Nursery In A Box to be a great management tool. The support team are very helpful and take on board suggestions to develop the system further.
Deb Fiddeman
26. October, 2022.
NIAB makes my job as an administrator much easier. They are always very responsive and patient if I need any help during my working day.
Alice Manto
20. October, 2022.
What a great product! I couldn't recommend it more. Managing every aspect of your nursery is simpler thanks to Nursery in a Box. It is easy to use; the team is very efficient and friendly. They have been very quick on responding to any questions or issues I had. Their expertise and knowledge come from first-hand experience and it shows in how the system is built and developed. David's advice while supporting and helping with our fees and their structures, funding and Consumables was an eye opener and a learning curve for me.
My Little Explorers
12. September, 2022.
Very impressed with the software and all the features that are included with it. After testing a few different options, we were suggested Nursery in a Box by another nursery and they weren't wrong. It has everything we needed and more and it's made the switch from paper to digital so much easier. Support is also amazing and very quick in answering any questions we have. Highly recommended!
Laura Pike
7. September, 2022.
Great Software. Nice and easy to use from a management prospective. Parent's love the features which they can access. Great technical support staff. Highly recommend.
LIttle Footsteps
15. August, 2022.
We have used Nursery in a Box for a couple of years now and its been great, especially when covid started. We were able to communicate effectively with all the parents and everyone found it really helpful. We use many features of the site, and if we have had any problems they have always rectified this for us for us to be able to use it to the full potential! Thank you 🙂