Make life easier
Take it to the next level with Nursery In a Box
Look after your nursery business with easy-to-use nursery management software you will love.

Our nursery management system makes your nursery and preschool life easier to manage so you can focus on what you love doing.

Why not give it a try. We guarantee you won't look back.
Find out more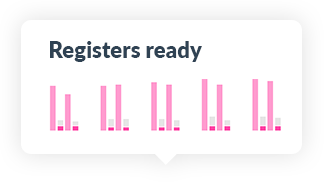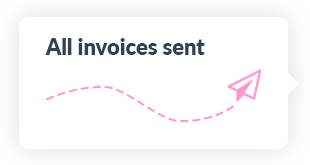 Simplify everything, optimise resources and value everything.
Steve Jobs

Manage your early years business with ease
Your all-in-one
Digital nursery management system
EYFS
Deliver the EYFS curriculum your way

Money
Get smart with your money

Marketing
Fill your nursery places faster

Management
Information at your fingertips

Apps
Parents and staff will love your apps

Technology
Invest in your early years technology

HR
HR, payroll and recruitment made simple

Safeguarding
Keeping you safe and secure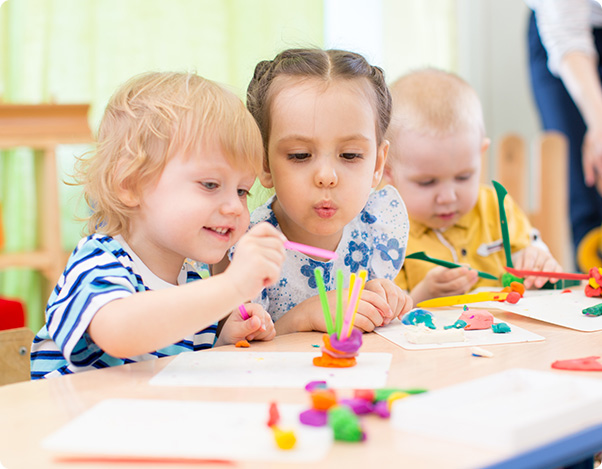 Let's start the journey!
Proud to support early years
You are amazing! Educating our early years children and giving them the best start in life is incredible and something to be really proud of. We would like to help you so you can spend more time focusing on our children's education.
It is a pleasure working in the early years and we believe our nursery management system will improve your nursery and preschool business so you can focus on what you love doing.
Thank you to all our nurseries for providing great feedback and helping us to improve every day.
Make smart decisions with your data
Together we've got this
Simplify everything and save time with nursery software that adds real value to your early years business.
Nurseries and preschools process a lot of data every day and why a great digital nursery and preschool management system becomes essential to manage your daily nursery operations.
With data-led reporting and clear insights into your nursery and preschool so you can make smart business decisions quickly and easily.
Make your nursery life easier with our nursery management software.
Find out more
Recommend us
100% of our nurseries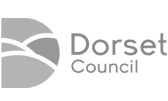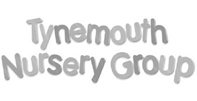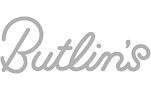 Nurseries love using our software

Nursery management software reviews
Jacky Brown
23. June, 2022.
Fantastically simple, bespoke nursery/pre-school business software. Is saving hours of our time. Helpline is quick and efficient. Delighted with the product and back-up service. The Children's Workshop.
Samantha Mansfield
23. June, 2022.
Nursery in a Box support team are life savers! We have just opened our new nursery, connected to our primary school so it is all a bit new to me. The support I receive is brilliant, very fast and they don't mind me constantly asking questions, they are always quick to respond and I could not be without them. The management system is wonderful, I wish we had it for our mainstream children, they have thought of everything to help organise our children. Well done Nursery in a Box team 🙂
Lime Tree Alton
31. May, 2022.
they do a great job, the software is easy to use
Lisa Richards
19. May, 2022.
This has completely changed our way within our nursery and our admin it has made our daily jobs much much easier. The online help team are brilliant and can advise on any issue we have.
Jacky Brown
22. March, 2022.
The most fantastic, comprehensive and easy-to-use Pre-school/nursery business management system. It is saving so much time, stress and unnecessary paperwork.
Mandy Crimes
17. March, 2022.
This is the best booking system we have ever had. It is so easy to use, bookings are a breeze but more importantly if you want to change/cancel or any amendment it is done with one click. On our old system is was clicking every single day to make the changes sometimes for the rest of the school year! but on here its one tick to change. Invoices are very professional and parents can download their own receipts for Universal Credit etc. This is just one side of the system but the best for me 🙂 Support is second to none, one message when you need help and in my experience they answer within about 15 mins! In setting they can use the registers quickly and easily, have 2 way contact with parents for absences and accident forms are a doddle. In all you must use this as your complete system if you run any sort of after school club/nursery.
Maria Tomkinson
25. February, 2022.
Love the system, the support team is EPIC, anything you need they sort for you and within 24 hours, highly recommend
stephen feeney
11. February, 2022.
This is the best nursery administration system on the market! Dave and his team are very helpful and knowledgeable! Thank you Dave for all your support over the years. If you are looking for a new system designed for nurseries this is the one you need!!!
Amanda White
26. January, 2022.
I have been using Nursery in a Box now since December 2021, having tried a couple of others systems. This is by far the easiest to navigate around and the team are so helpful. If you have any issues just do a ticket and they answer you query straight away. I would highly recommend this system.
Hedgehogs Leader
6. January, 2022.
The NIAB admin team are always very helpful, and have speedy responses! Nursery in a box is easy to use, and a great tool to have.
It's a bit of a no brainer
Made to grow your business
Powerful
Cloud-based nursery management system with smart reports and clear insights to put you in control of your early years business.
Accurate
Financial planning based on live booking patterns and fee increases to see your revenue forecast for the next 5 years.
Smart
Increase your revenue and reduce operating costs to maximise your early years business. Improve your cash flow and reduce your age debt positions to maximise your return on investment. Work efficiently with live data live in real-time for smart decision making.
Save time & get focussed
Do more of what you love
Simplifying your admin allows you to focus on educating early years children and staff.
Designed to save you time and money
Simple and easy to use
Reduce admin costs by 80% against paper-based systems
Start today
Nothing is particularly hard if you break it down into small jobs.
Henry Ford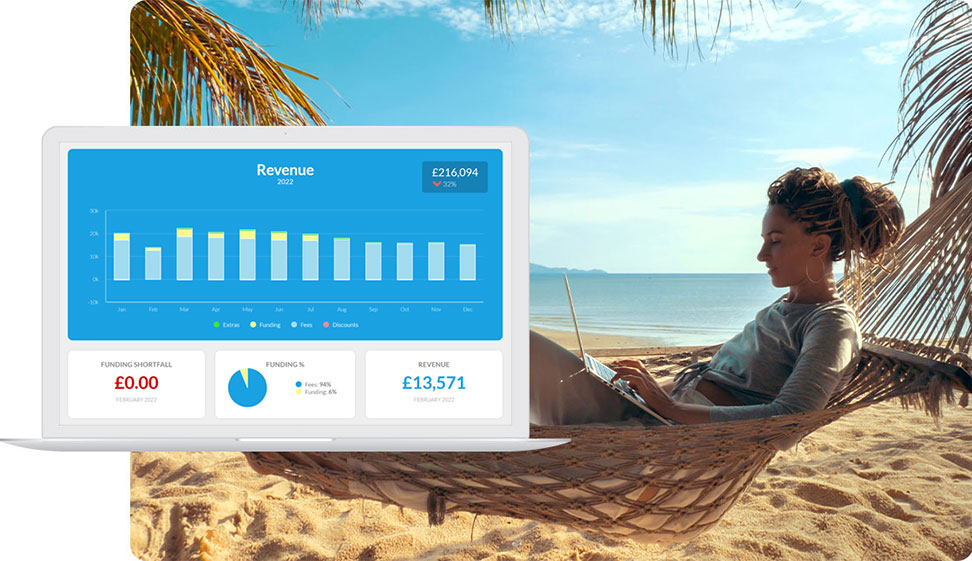 In the cloud to simplify your nursery admin

Nursery management system

Digital, cloud-based nursery management systems have transformed the way traditional paper-based nurseries operate causing many nursery owners to reshape everything they do and It's now a case of when to migrate to the cloud not If.

From, one-click invoicing to online registration forms the cloud allows nurseries, parents and staff easy access to information to make nursery life easier to manage. For most nurseries, that's a lot of information available any time you need it 24/7.

Out with the old, in with the new
Easy to switch
Your system can be set up, data imported and ready to use within 2 days with our simple onboarding system. Reduce your costs with efficient use of your admin time.
Request your free trial

Give us your name, email and more

Add your children, parents and staff

Simple details as all registration information are filled in by the parents and staff

Create your registers

Add booking patterns and shift patterns

You're up and running!

Start using digital registers, reports, insights and really get hold of your nursery business
You'll never look back on your old systems again
Our Guarantee
Welcome you to a new home for your nursery data with a digital nursery management system.
Start your free trial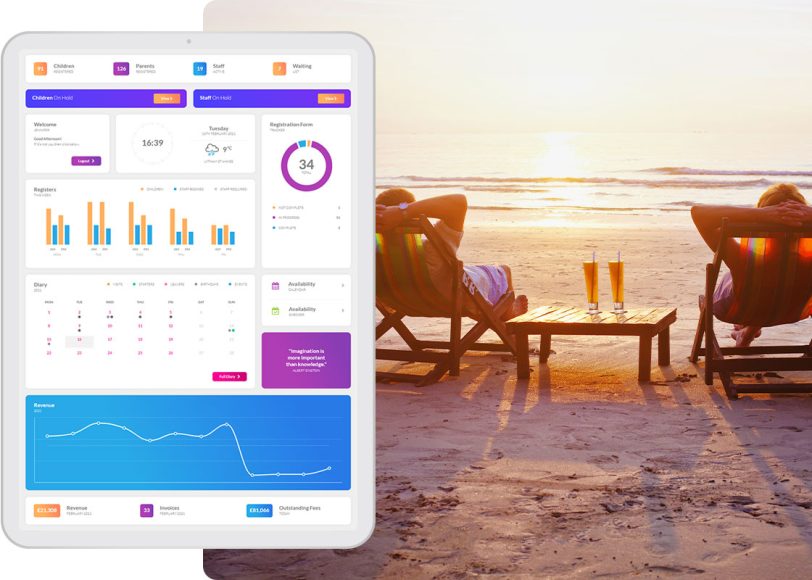 The best cloud based nursery management software system in the UK
Make your nursery life easier
We aim to:
Put you in control
Help deliver the EYFS your way
Make your nursery life easier to manage
Reduce your admin by 80%
Grow your revenue
Streamline your business
Your digital nursery in the cloud gives you control of your nursery management information and with Nursery In a Box, this is now available any time, any place, anywhere from any device whenever you need it.

Nursery management information at your fingertips
Anytime, any device, anywhere
Manage your nursery from anywhere in the world.

View your nursery details on your desktop, laptop, tablet, or mobile phone whenever you need it.


With Nursery In a Box
Simplify Everything
Start your journey towards simplicity and let us show you how a great nursery management system works with you to improve your early years business.
Start your free trial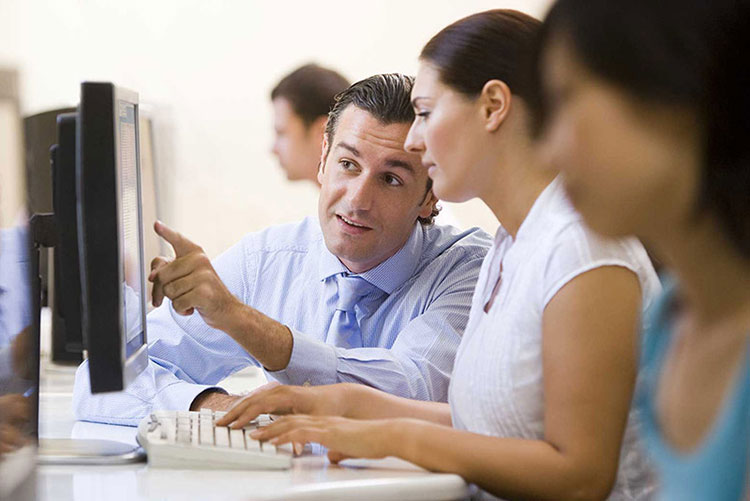 Unlimited software training and support

Take control of your business

We use a partnership-led approach tailored to you and your nursery's specific needs so you get the most out of your nursery management system.

Nursery In a Box saves you valuable time as you have enough to worry about in your nursery throughout the day. With an all-in-one system, you can spend time doing the things you love in your business.

Still unsure? Book a free trial of our nursery management software and see what thinking outside the box can do for you and your early years business!
Nursery management software
Book your free trial of our nursery software or give us a quick call to find out how we can help on 01253 49 50 51. We guarantee you won't look back on your old systems again.
Always here to help
Need a call back?
If you have any questions, just get in touch and we will show you how we can make your nursery life easier to manage.
Get in touch