Your invoicing, funding & accounts sorted
Get smart with your money
We help you manage your money so it's not so scary and here at Nursery In a Box, we have you covered with a powerful billing engine to maximise your revenue.

We will make it easy for you to manage your payroll, invoices, payments, outstanding fees, tax free childcare, booking pattern changes, registration fees, funding codes and much more.

Send easy to read itemised invoices with funding hours clearly shown with payments auto reconciled and updated on the Parent App too.
Start your free trial
Power comes not from knowledge kept but from knowledge shared.
Bill Gates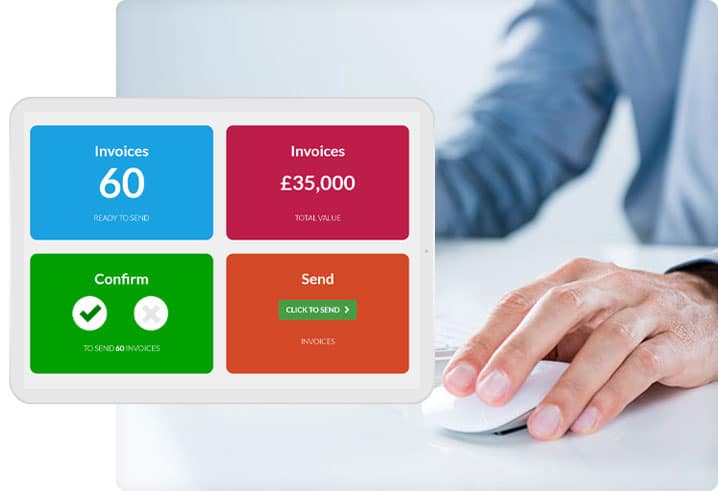 Make life easier with
One-click invoicing
Easy to use invoicing system with clear and accurate invoices so you get paid faster. This also helps reduce parent invoice queries and frees up your admin time.
Parents can view and pay their invoices online
Saves you time with reduced invoice queries
Grows your revenue and reduces your aged debt
Improves your cash flow

Works with your favourite online accounting software
Accounts integration
Easy to integrate your sales ledger with a simple CSV export to your favourite on-line accounting package.
Provide your accountant with clear and accurate information every time or even their own login to complete month end, it might even save you some accounting costs!.
Smart book keeping with nominal codes and journal entries for transaction level accounting.
Easy to apply and change
Booking patterns
Flexible or fixed booking patterns available which can be applied weekly or monthly.
Simple to make changes to your booking patterns with updates to your registers and invoices in real time.
Flexible booking patterns are also available for shift workers and can be set up with ease.
Easy to understand and simplify your current booking patterns so you can look at ways to maximise your availability and occupancy.
Get started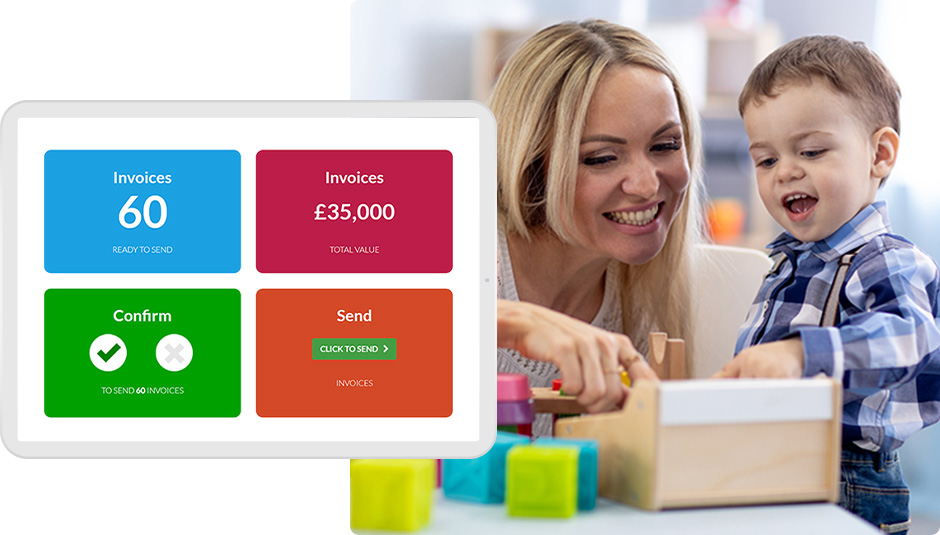 Reduce your invoice queries with
Clear & simple invoicing
Send itemised invoices that are clear, accurate and easy to understand in seconds.
Reduce your parent invoice queries to show funding hours, meal charges, discounts, extra sessions, booking patterns and more so parents can see exactly what they have been charged for.
See your draft invoices years in advance, so you can check them before sending. Easily correct any mistakes made with cancelled invoices and automated sales credits.
Design is the silent ambassador of your brand.
Paul Rand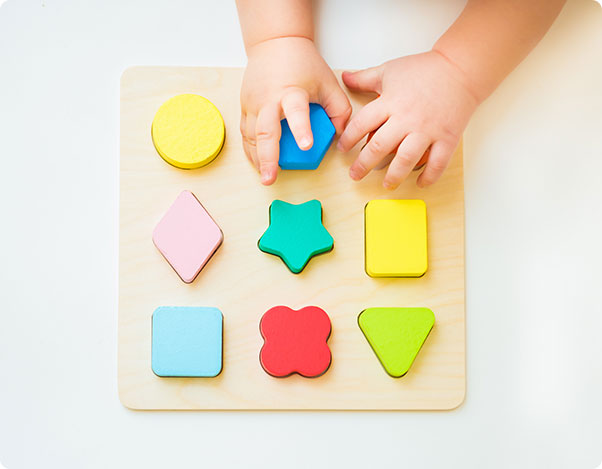 See how much you discount away
Discounts & deposits
Full-time and sibling discounts can be applied as one-offs or as a recurring discount – whichever works best for your nursery.
Additional discounts can also be added quickly and easily with a handy discount report so you can understand how this affects your revenue.
Take deposits as part of the registration fees or you can refund if you wish to. See how much or how many deposits you hold or have paid.
Try it for free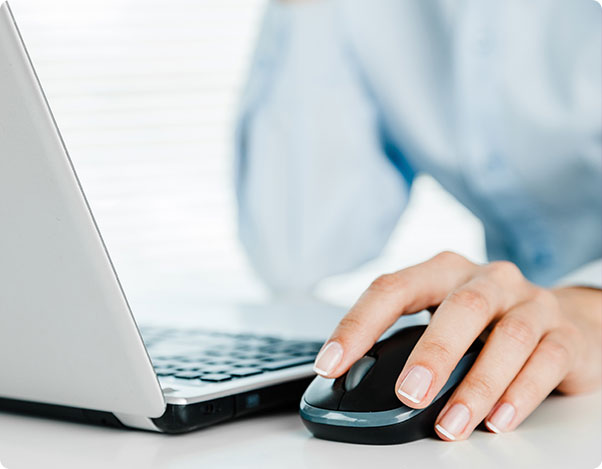 Save time and make it
Easy to send your invoices
Send your invoices quickly and easily with one-click invoicing.
It will take you less than 10 seconds to send all your invoices to save you time so you can focus on getting your money in faster.
Invoices are emailed to your bill payers and instantly available on the Parent admin app so they can download their invoice any time.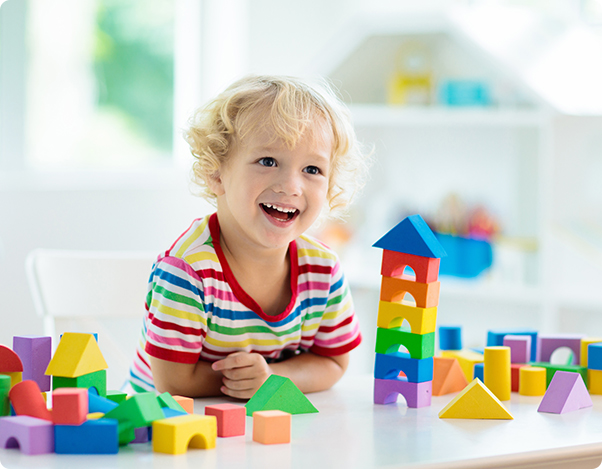 Easy to book
Extra sessions
Book extra sessions with ease either on the day or months in advance. For most nurseries extra sessions only represent about 1% of your revenue but it's good to know you shouldn't miss any. Your invoices and registers get automatically updated when extra sessions are applied.
You can easily apply extra sessions and these show separately on your invoices so it's clear for everyone. All your extra sessions drop into the extra session report so you can see every single one booked.
Parents can request extra sessions from the Parent Admin app, so you can approve if you have availability and staff present to maximise your occupancy and revenue.
To launch a business means successfully solving problems. Solving problems means listening.
Richard Branson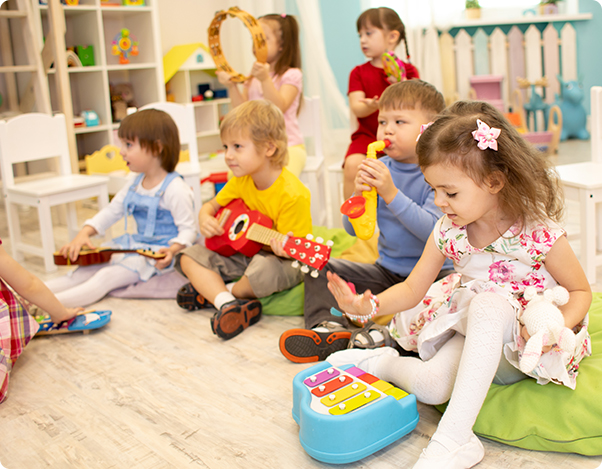 Easy to apply
Extra products
Easy to apply extra products either as a one-off or recurring monthly charge.
These can be for uniforms, dance classes or anything you choose to set up in your admin.
See a full list of extra products in your reports and update these whenever you wish to.
Start your free trial
Simple and easy to apply
Funding hours
Track and manage your funding hours by revenue, age, week, term, month or by year so you never miss funding shortfalls.
Automatically apply funding to your children's booking patterns either individually or in bulk quickly and easily and take the stress away from applying your funded hours.
See your funding revenue with insights and reports on funding hours by age or revenue. See funding % for your nursery so you can maximise consumable and additional service charges.
Funding hours are displayed on your invoice to meet local authority requirements.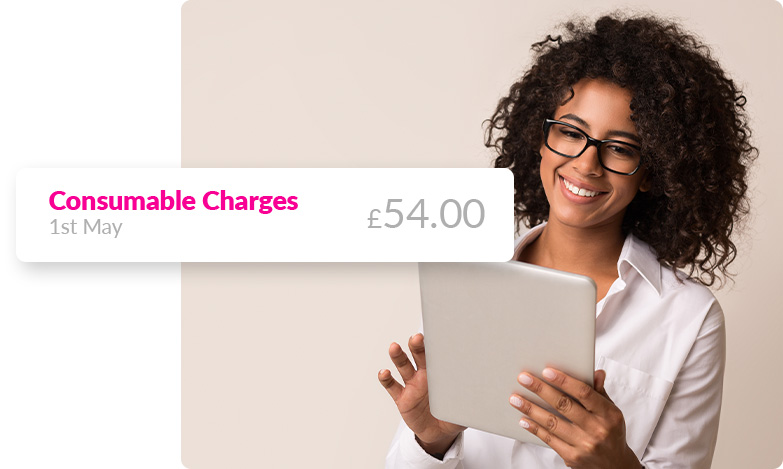 Automate your
Funding shortfalls
Automate your meals, snacks, consumables, extra hours and additional services so you don't have a funding shortfall with the flick of a switch you can find thousands of pounds in lost revenue and make sure you never miss out again.
If you don't wish to use this facility then you can switch to invoicing funding hours so they are free at the point of entry leaving you to charge your meals, consumables and additional services separately.
The funding received from the local authority in most cases does not cover the full cost of childcare so you can charge a suitable amount accordingly.
A business is simply an idea to make other people's lives better.
Richard Branson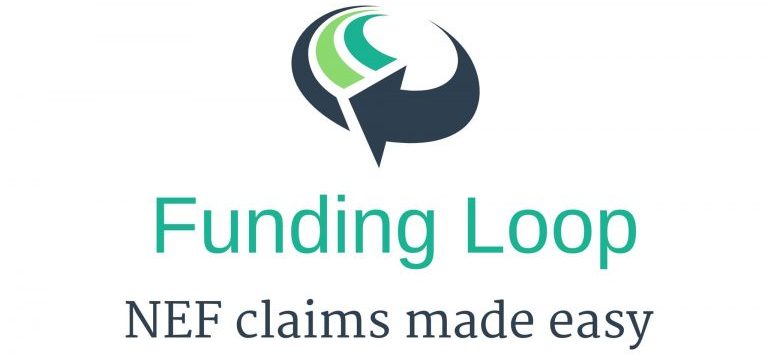 Funding claims made easy
Funding loop integration
Funding Loop simplifies your funding claims process with your local authority by collecting parental declaration forms from parents on-line.
Rather than printing, handing out and chasing paper forms, a single click notifies all your parents to complete a form on their computer or mobile phone. This information is remembered for any subsequent terms, to make it even easier next time.
Get started now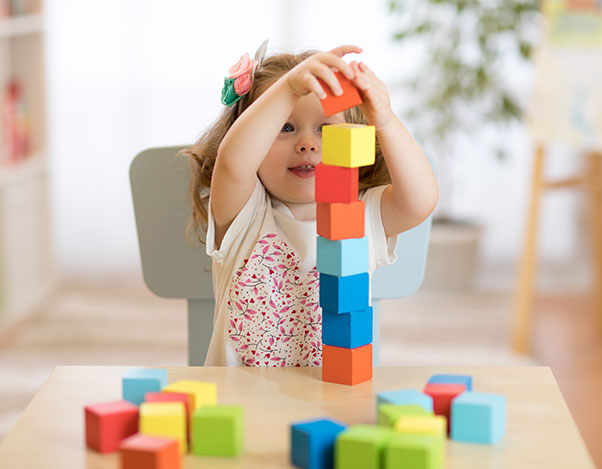 Automate future fee increases with ease
Fee increases
Fee increases can be easily added so you can see the impact these have on your future revenue.
Automate your fee increases years in advance for clear revenue reporting.
We also provide standard fee increase letters that are easy to customise so you can send directly to your parents via messages & notifications with as little fuss as possible.
Simple and easy to understand
Fee structures
Simplify your invoicing process and streamline your fee structures to maximise your revenue.
Standardise your schedule of fees so they are clear and simple so everyone can understand them.
Find out exactly where your money comes from and adjust these accordingly with smart insights into your business.
Only nothing is impossible.
Grant Morrison
Get your money in faster
Improve your cashflow
Move over to online payments and get your money in faster to improve your cash flow.
Send reminders to parents with outstanding fees and keep track with clear insights into your aged debt position.
Create payment plans for parents struggling to manage their nursery fees and remove them from your aged debt reports.
Try it for free
Automate your food charges
Meals & snacks
See meals per week/month and by room to understand the cost of meals you provide for your children quickly and easily.
Produce a weekly meal report for the kitchen showing any allergies or dietary needs. Clear to see the number of meals required for the week ahead so you can prepare accordingly.
Charge your meals separately as an extra product for transparent invoicing and see how much revenue meal charges generate.
If everyone moves together then success takes care of itself.
Henry Ford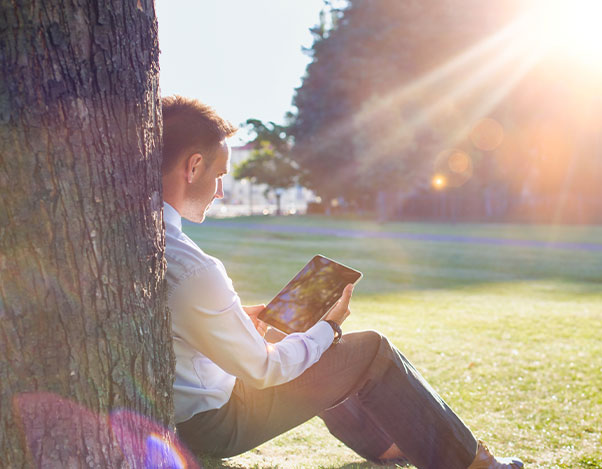 Help reduce parent admin queries
Paperless billing
Go paperless and allow parents to view and download invoices with ease.
No more worrying if a payment has been received. Parents can download a payment receipt for each payment made shown clearly in their child's account history.
Easy to understand invoices reduce parent admin queries saving you valuable nursery admin time.
Try it free
Calculated by room
Profit & loss
See your staffing costs and revenue per day or week to give you a simple profit & loss by room.
Clear to see where each room makes or loses money to give you accurate financial information to work with.
Calculate surplus staff to see how much this costs you for efficient staff planning.
Great things in business are never done by one person. They're done by a team of people.
Steve Jobs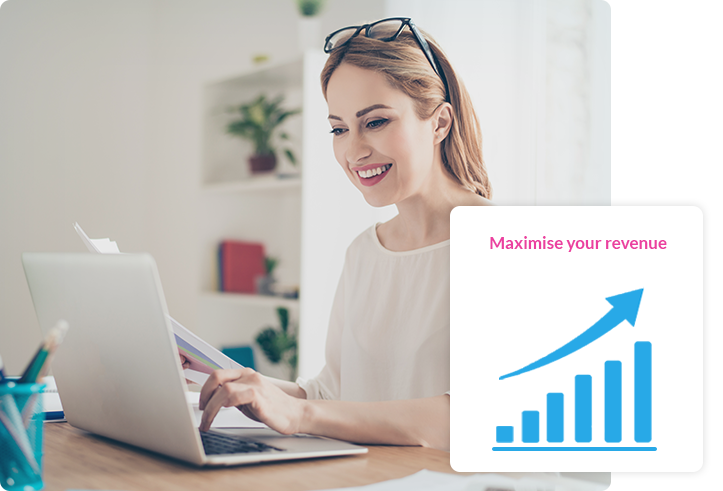 Maximise you revenue
Revenue forecast
See your next 5 years revenue for accurate financial reporting and forecasting with up to the minute financial planning.
With revenue forecasts based on your actual booking patterns, discounts applied, meals and consumables charged, fee increases made and funding hours allocated. Your bank and accountants will love you.
We reckon you will find them pretty useful too.
Simple and easy to manage
Tax-free childcare payments
20% off your fees for parents is a bit of a no brainer so get really good at managing your tax free childcare payments as for many nurseries and preschools this can represent 50% of your revenue.
Track and manage tax-free childcare (TFC) payments simply and easily.
Show tax free childcare payments clearly on the Parent Admin app with parents able to update HMRC funding codes easily.
Nurseries love using our software

Nursery management software reviews
Amazing service - I sent a support ticket with a quire and was expecting an explanation of possibly how to sort it - instead within 10 minutes, the problem had been rectified by the NIAB team saving me valuable time and stress!
Siobhan Pick
11. April, 2023.
This software saves us so much time and effort for running our nursery. Their team are so responsive with any issues or questions we have and usually respond with a solution within minutes. Highly recommend!
Nicola Francis-Bown
22. January, 2023.
We have used Nursery in a box for a number of years and have always been pleased with the service. Every enquiry we send however minor is always dealt with promptly and professionally. parents have also given us positive feedback using the app. if your look for a provider then we would highly recommend nursery in a box x
Wonder Years Day Nursery
21. November, 2022.
We've been using Nursery in Box for a few years now and really love it. It's a great System to use and they are great with support when it's needed. They are constantly upgrading quite regularly too.
Baldersby Park Montessori Nursery
3. November, 2022.
I have always found Nursery In A Box to be a great management tool. The support team are very helpful and take on board suggestions to develop the system further.
Deb Fiddeman
26. October, 2022.
NIAB makes my job as an administrator much easier. They are always very responsive and patient if I need any help during my working day.
Alice Manto
20. October, 2022.
What a great product! I couldn't recommend it more. Managing every aspect of your nursery is simpler thanks to Nursery in a Box. It is easy to use; the team is very efficient and friendly. They have been very quick on responding to any questions or issues I had. Their expertise and knowledge come from first-hand experience and it shows in how the system is built and developed. David's advice while supporting and helping with our fees and their structures, funding and Consumables was an eye opener and a learning curve for me.
My Little Explorers
12. September, 2022.
Very impressed with the software and all the features that are included with it. After testing a few different options, we were suggested Nursery in a Box by another nursery and they weren't wrong. It has everything we needed and more and it's made the switch from paper to digital so much easier. Support is also amazing and very quick in answering any questions we have. Highly recommended!
Laura Pike
7. September, 2022.
Great Software. Nice and easy to use from a management prospective. Parent's love the features which they can access. Great technical support staff. Highly recommend.
LIttle Footsteps
15. August, 2022.
We have used Nursery in a Box for a couple of years now and its been great, especially when covid started. We were able to communicate effectively with all the parents and everyone found it really helpful. We use many features of the site, and if we have had any problems they have always rectified this for us for us to be able to use it to the full potential! Thank you 🙂