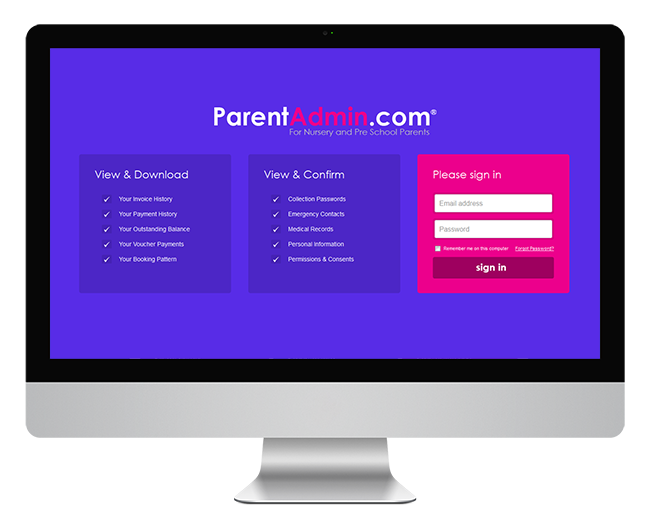 New Ways Of Communicating
With Your Parents
Parent Admin.com allows your parents to view and download invoice history, payment history, outstanding balance, voucher payments and booking patterns.
In addition to being able to view and confirm collection passwords, emergency contact, medical records, personal information and your parent permissions and consent forms.
Nursery will see a significant reduction of 75% parent admin queries.
Help Reduce
Parent Admin Queries
With ParentAdmin.com you save nursery admin time by allowing your parents to check their registration details online, view voucher payments and much more.
Parents can login and view invoices, account history, parent / child details and more through your website. Introducing new ways to communicate with your parents.
Parents always want information on their child when they leave them in your capable hands and help to juggle their busy lives. So make it easy for them to view their invoices, check their account history and update medical records and emergency contacts from the comfort of their computer or mobile device. They have access to details concerning their child and the ability to transfer important information to you right at their fingertips. Making communication easier all round.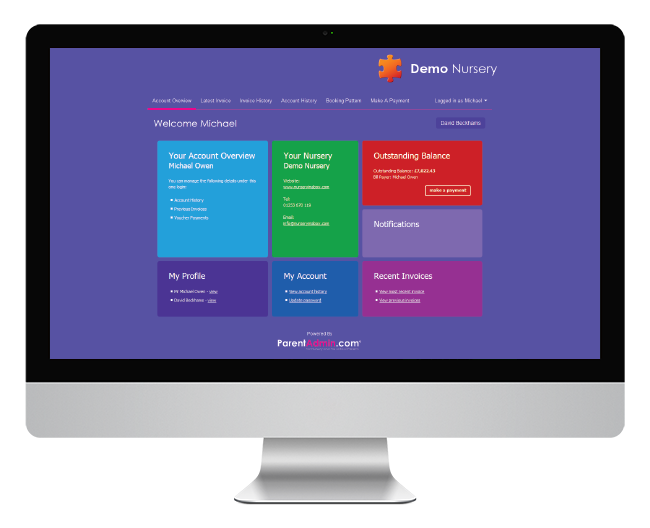 Allow Parents To
View & Download
Their invoice and payment history, voucher payments and booking patterns to save you valuable nursery admin time.
Allow Parents To
View & Confirm
Permissions, collection passwords, emergency contacts, medical records, personal information online safely and securely with ParentAdmin.com.