Nursery Admin
Go digital with your admin
Winning nurseries go digital to automate daily tasks, simplify admin, and help focus on what matters.
Moving from paper-based admin to a modern digital nursery management system makes life easier and should save you 80% admin time.
Easy to use cloud-based nursery management system
Nursery admin software stored safely and securely in the cloud with a full system backup every hour.
Start your free trial
Simplicity is the ultimate sophistication.
Leonardo da Vinci
Time & attendance made easy
Digital registers
Fast digital check-in/out for parents and staff all with just a PIN.
See who is in the building and when they started their shift or booking pattern in real-time for accuracy in your time and attendance data.
Record times in and out against booking and shift patterns to see trends in your parent and staff time and attendance.
Synced with your registers in real time
Availability & Occupancy Calenders
Track your availability and occupancy across the year with live availability calendars, occupancy planners, reports and insights.
Check your availability for the next 5 years and maximise your room occupancy. See your availability and occupancy by room, by month by full-time equivalent (FTE) and much more, so you can easily sport the trends.
Maximise your nursery occupancy and fill your places with ease.
Start today
Strive not to be a success, but rather to be of value.
Albert Einstein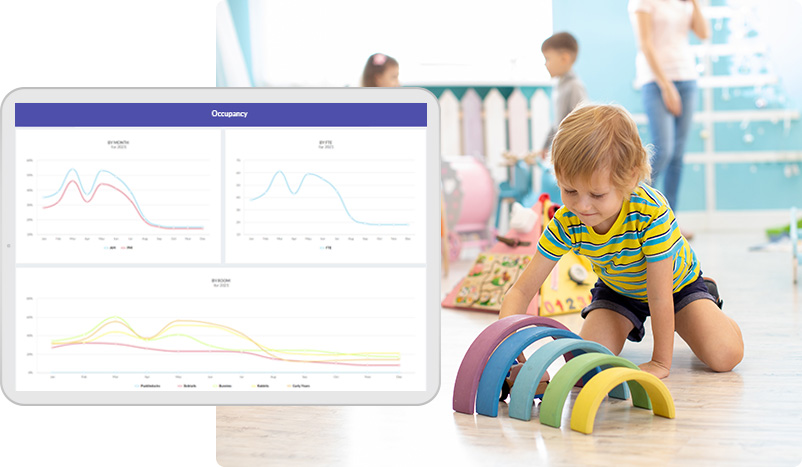 Forecasting simplified
Spot trends easily
See your attendance live as it happens.
Paper based and digital registers available with daily, weekly and monthly views of your children and staff registers.
Filters auto highlight any children with allergies, dietary needs, medical conditions, term time or funding types so your team stays updated with any changes.
Daily registers with a live availability calendar.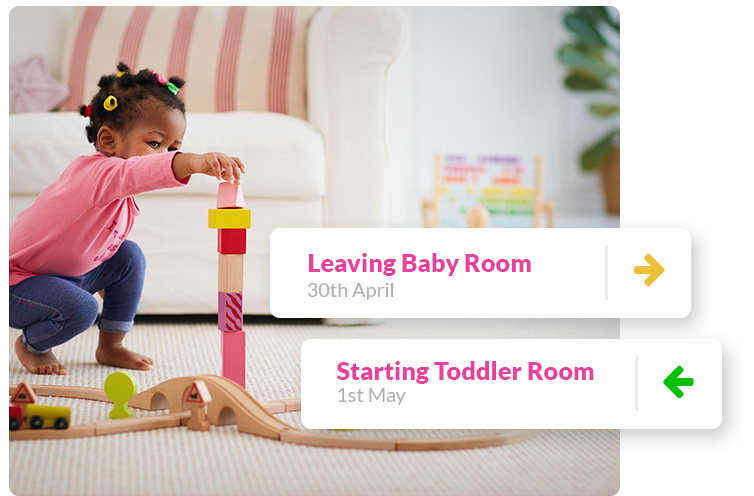 Auto room move forecasting
Room Moves
Automate your room moves to ensure your future registers are correct to ratio.
See future room availability and occupancy so you can maximise your places and plan effectively. Override your room moves so you can hold children back or move them forward when they are age or stage appropriate.
Check the room move forecast per child or globally across the whole nursery.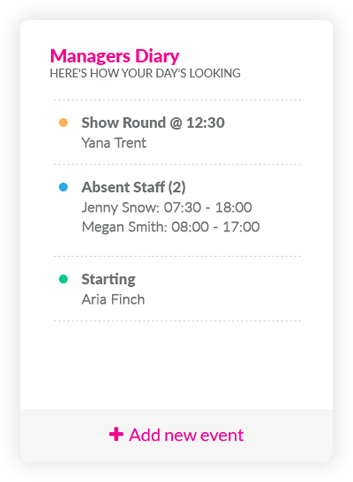 Keep your managers informed
Manager's diary
See what's going on and plan ahead with our manager's diary system.
Clear to see birthdays, absences, starters, leavers and enquiries booked from your website automatically drop into your diary.
Easy to add meetings or add a new event and plan forthcoming activities.
It always seems impossible until it's done.
Nelson Mandela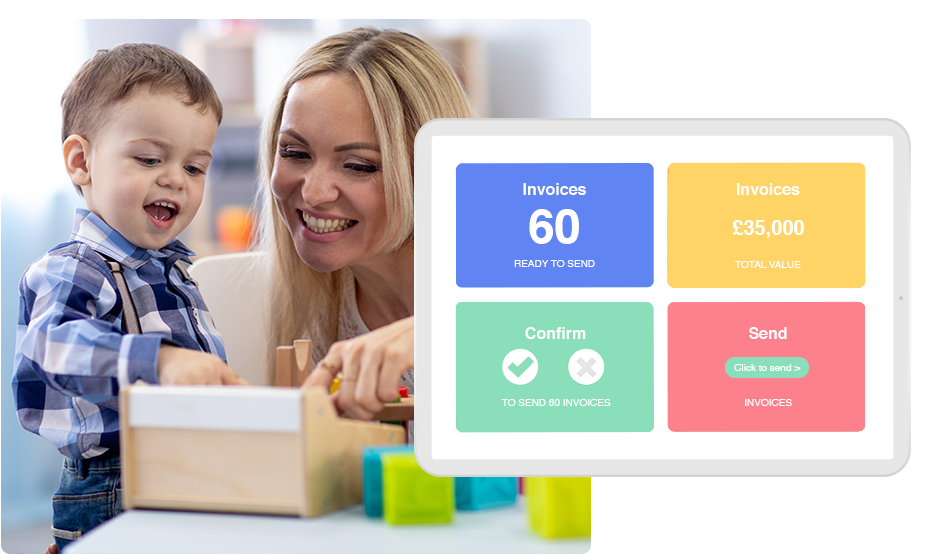 Help reduce parent admin queries with
Clear & simple invoicing
Show funding hours, meal charges, discounts, extra sessions and booking patterns on your nursery invoices, so parents can see exactly what they have been charged for. Easily correct any mistakes made with cancelled invoices and automated sales credits.
One-click invoicing with itemised invoices
See your draft invoices, years in advance, so you can check them over before sending. Produce itemised invoices that are clear, accurate and easy to understand in seconds.
Find out more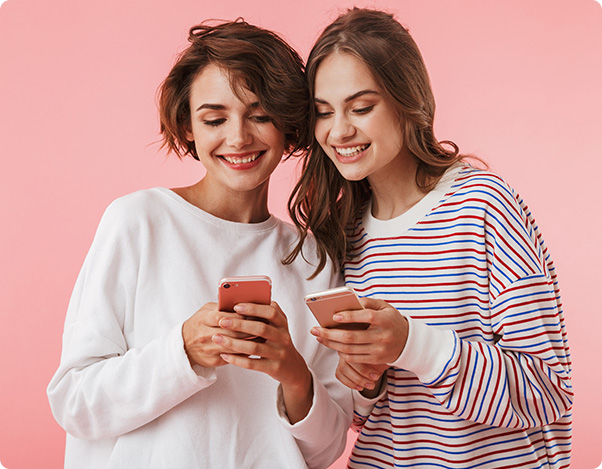 Communications made easy
Notifications & messaging
Your two-way messaging system keeps all your communications in one place and makes it easy to keep in touch with your parents and staff.
Start using smart phone apps to keep you connected.
Send and receive notifications and stay updated with your parent and staff communications in real-time.

Keeps your early years data safe & secure
Multiple user levels
Self-managed user levels with financial and non-financial access to make sure everyone is only using the key information they need to see.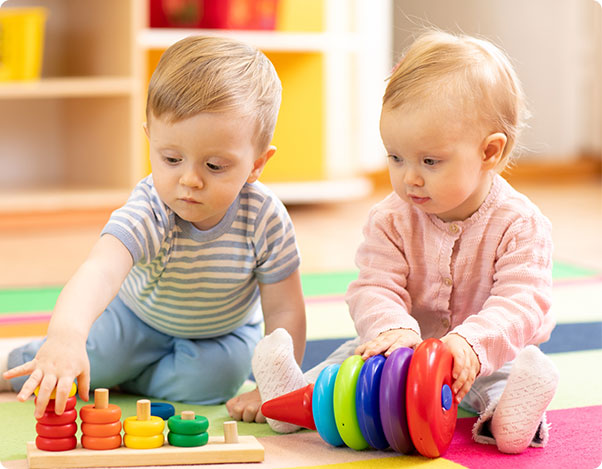 Staff to child ratio's
Ratio Tracker
Track your room ratios by day, or week so you always have an Ofsted compliance record available.
Check your rooms are set up to ratio so you can automate your room moves. Easy to amend or change your room set up so you can maximise availability.
Take it to the next level and see your room ratios every 15 minutes to keep an eye on your staff to child ratios.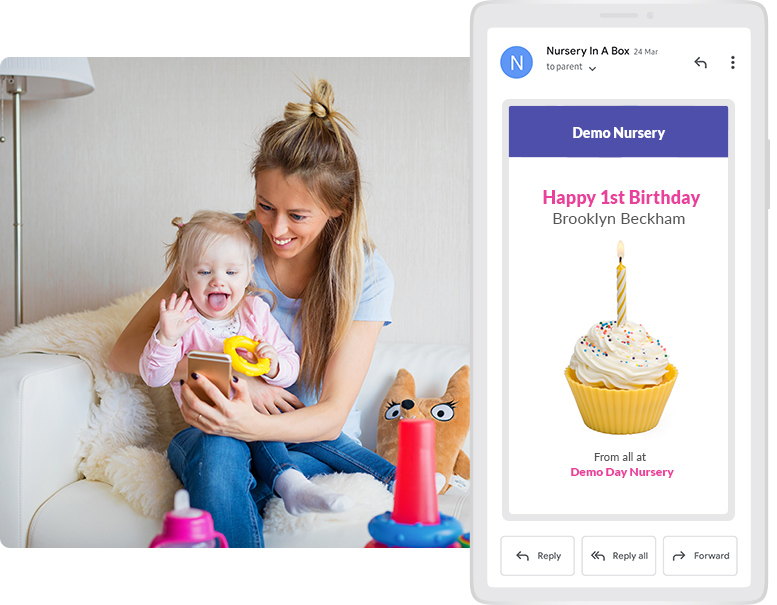 Auto-send ecards to everyone
Birthday eCards
Why not do the nice gesture and automatically send a birthday card email to your children, parents & staff. That way, it is ready and waiting in their mailbox at 8am on the morning of their birthday.
If we want users to like our software we should design it like a likeable person: respectful, generous and helpful.
Alan Cooper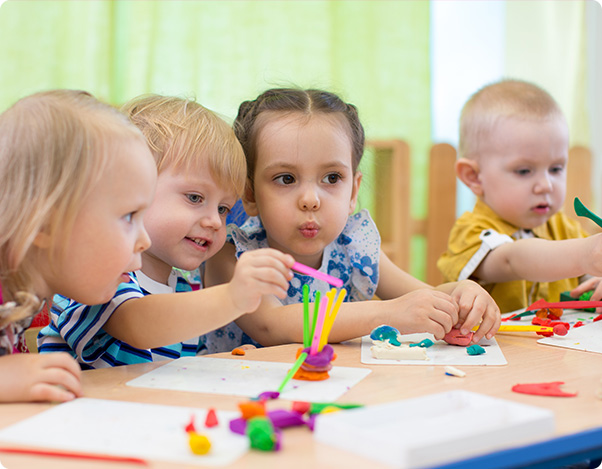 Registration made simple
Digital registration forms
Go paperless with your childcare registration forms and allow parents to register online straight from your nursery website. Need to mention reg tracker or do it separately.
Minimise admin and paper based filing with all your registration forms stored safely and securely in the cloud.
Our registration form tracker helps you manage the registration process so you can see the status of each registration and check any digital signatures missing. Link these to your terms and conditions so no more paper T&Cs.
Digital registration forms completed by your parents. Keep registration details up-to-date and in compliance with Ofsted and GDPR requirements.
More info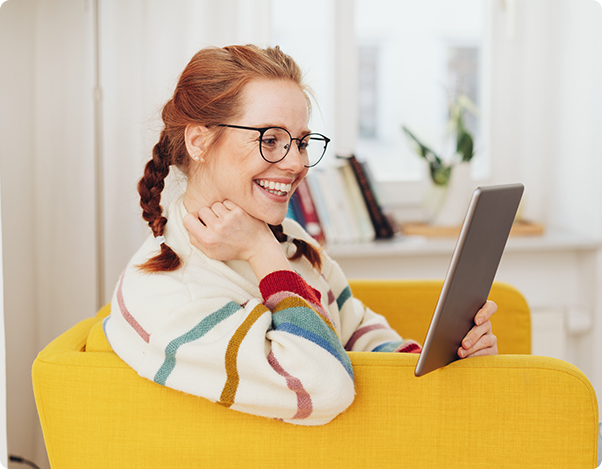 Manage your timesheets with digital registers
Timesheets made simple
Parents and staff can check-in and check-out of the nursery with digital registers using a simple four digit PIN code to always record their time and attendance.
Keep your timesheets and working hours accurate with digital registers.
Missing hours are clear to see, so you can amend accordingly.
Imagination is more important than knowledge.
Albert Einstein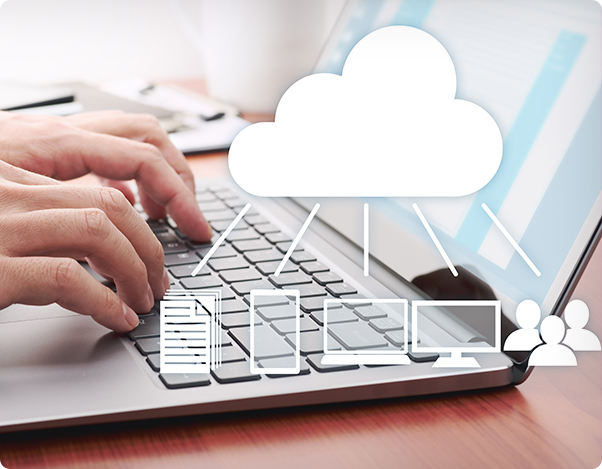 Store documents securely in the cloud
Document library
Store your important documents safely and securely in the cloud.
Ensure you are always working with the latest documents and policies and procedures so it's clear for everyone.
Unlimited storage with document version control so you can keep everything up-to-date.
Manage permissions and parental consent given
Permissions & Consent
Permissions, collection passwords, emergency contacts, medical records and personal information is stored safely and securely in the cloud. Parents are able to update you of any changes made in the Parent Admin app.
See your permission report and track changes made.
More info
Individually we are one drop. Together we are an ocean.
Ryunosuke Satoro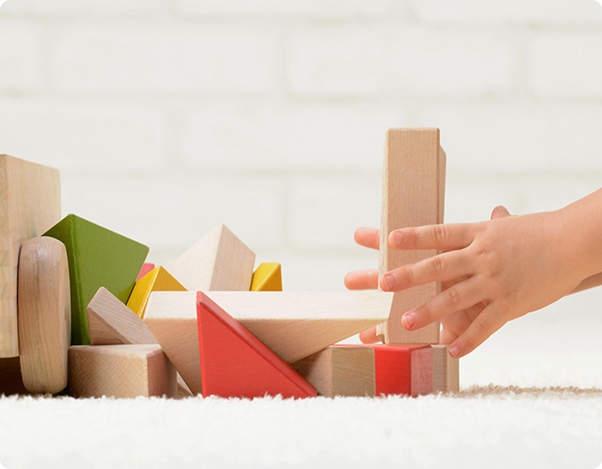 Big data at your fingertips
Reports & Insights
Nursery In a Box provides you with great business tools to manage your nursery admin and put you in control of your child, parent and staff data.
Live reporting with over 200 reports
Clear and Insightful reporting with over 200 data-led reports gives you a great insight into your nursery business. Provides you with high quality nursery management information, live and in real-time whenever you need it.
Group data sorted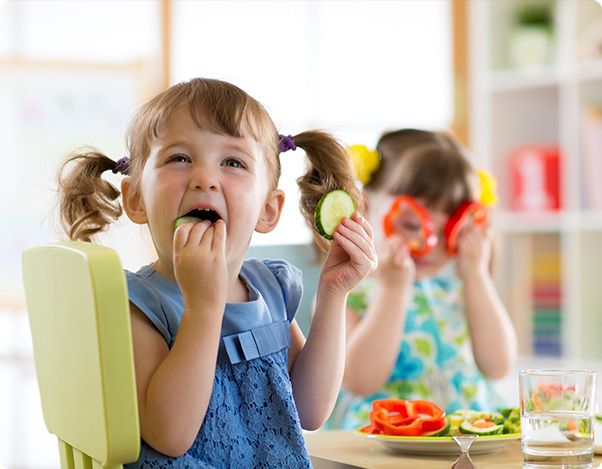 Managed easily for you
Food Menus
Manage your seasonal food menus so parents can see what their child has eaten during the day.
Give your chef daily food lists per room and child so they can plan better. Highlight allergies and dietary needs so the chef can be made aware.
Record food eaten and drinks consumed quickly and easily so you can share these with parents in their child diaries and their Parent Admin app.
Easy to see your children's details
Child & SEND details
See your child's details and record changes quickly and easily.
Manage your permissions and see your parental consent at the click of a button.
Track and manage SEND information with ease to record any changes.
 
More on parent admin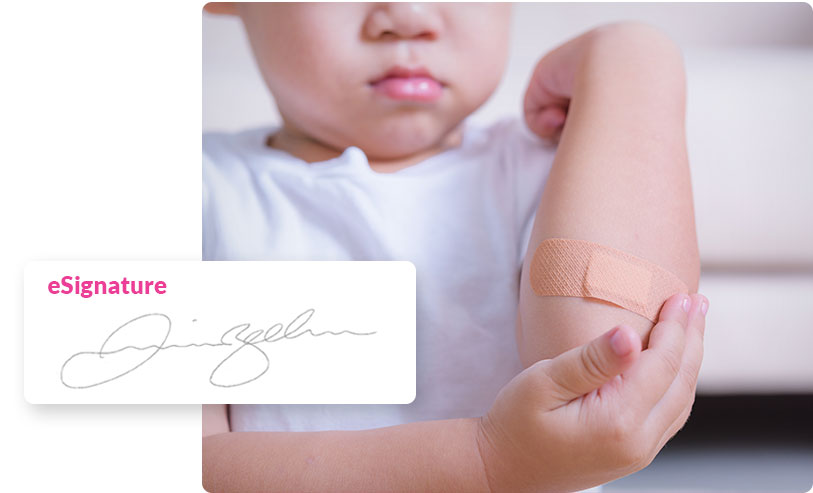 Digital and paper-based accident forms available
Accident forms
Accidents do happen and we are here to help manage and track your accident forms online with fast access to emergency contact details.
See your accident history and highlight the areas where most accidents occur. See trends and accident locations with ease.
Parents can view and sign child accident forms through the Parent Admin app or at the nursery.
Always deliver more than expected.
Larry Page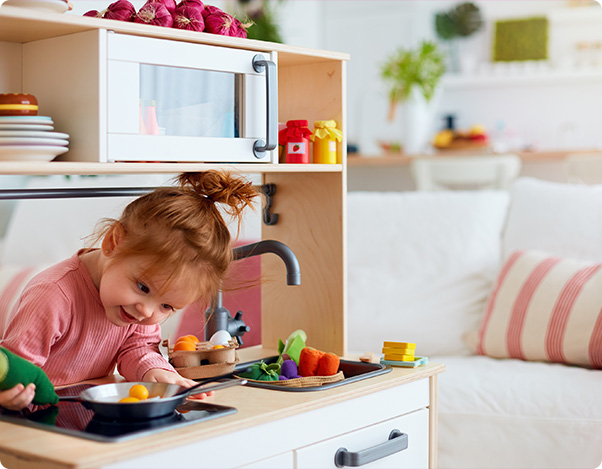 Keeping your child and staff medical details up to date
Allergies & dietary needs
See your allergy and dietary requirements and manage your illness and immunisation records easily. Parents can update their immunisations on Parent Admin so your records always stay up-to-date.
To make things even more simple, we have created a weekly meals report for the chef, so they know exactly what meals need preparing and any allergy or dietary requirements they need to be made aware of.
Start your free trial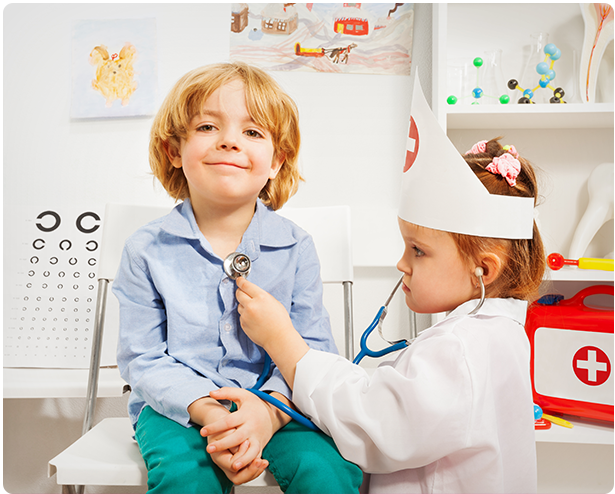 Track and manage your renewals
DBS & first aid checks
Manage DBS renewals and first aid date checks with ease.
Receive a notification alert when they are coming close to expiry to help with safeguarding.
Software is a great combination between artistry and engineering.
Bill Gates
Keeping you safe and secure
Safeguarding tools
Manage and log your concerns so everything is recorded correctly. Many insurers require you to keep accident information for 25 years so it's good to know they are stored safely and securely in the cloud and available whenever you need them.
View accidents by room and year or whether they took place on-site or off-site so you can spot trends quickly and easily. Check and track accidents and incidents by days last happened and the location they took place so you can request a digital signature from carers to keep everyone informed.
Check first aid dates and DBS renewals with an instant notification alert to make management easier.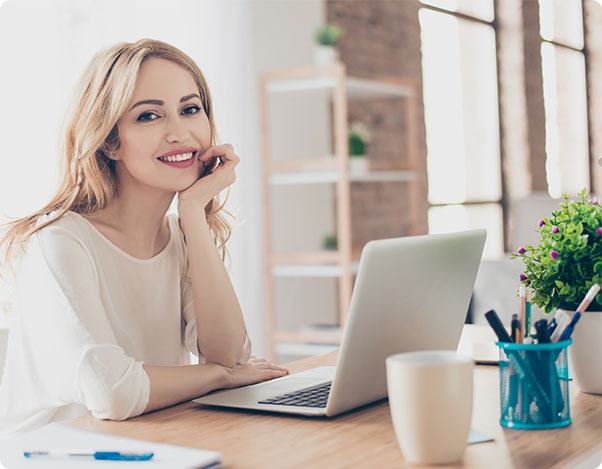 Log everything so no more paper handover books
Safeguarding logs
Log your parent, staff and child information safely and securely in the cloud. No more need to store paper-based copies.
Keep your digital log records for insurance and Ofsted requirements for as long as you need them.
Log Welfare calls so you always have the information to hand.
Patience is a key element of success.
Bill Gates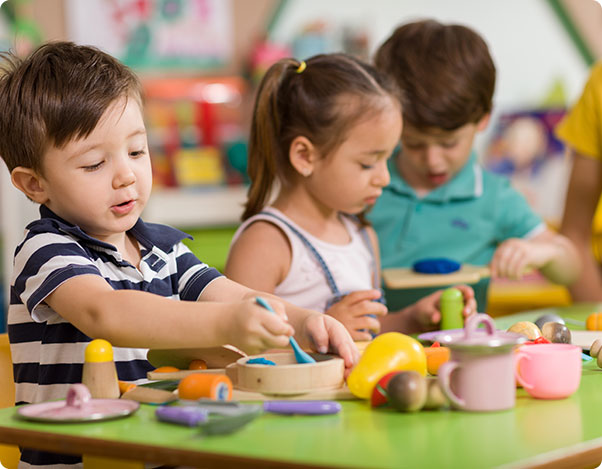 Record and monitor your fire drills
Fire Registers
Quickly take your fire registers for children and staff to see who is in or out of the building.
Select all or individual rooms to take a headcount with ease on your mobile, tablet or PC.
Print fire register reports for a paper-based copy if required.
Easy to access all your emergency contact details
Emergency Contacts
Emergency contact details are available for children, parents and staff.
Easy to keep your emergency contact details up to date with these completed by your parents in the parent app and by your staff in the staff app.
Emergency contact lists available any time and available to view and print any time you need them.
More on features

Nursery In a Box
Start your journey towards simplicity.
Find out what makes us so special and let us show you how a nursery management system works with you.
Try it free
Nurseries love using our software

Nursery management software reviews
Jacky Brown
23. June, 2022.
Fantastically simple, bespoke nursery/pre-school business software. Is saving hours of our time. Helpline is quick and efficient. Delighted with the product and back-up service. The Children's Workshop.
Samantha Mansfield
23. June, 2022.
Nursery in a Box support team are life savers! We have just opened our new nursery, connected to our primary school so it is all a bit new to me. The support I receive is brilliant, very fast and they don't mind me constantly asking questions, they are always quick to respond and I could not be without them. The management system is wonderful, I wish we had it for our mainstream children, they have thought of everything to help organise our children. Well done Nursery in a Box team 🙂
Lime Tree Alton
31. May, 2022.
they do a great job, the software is easy to use
Lisa Richards
19. May, 2022.
This has completely changed our way within our nursery and our admin it has made our daily jobs much much easier. The online help team are brilliant and can advise on any issue we have.
Jacky Brown
22. March, 2022.
The most fantastic, comprehensive and easy-to-use Pre-school/nursery business management system. It is saving so much time, stress and unnecessary paperwork.
Mandy Crimes
17. March, 2022.
This is the best booking system we have ever had. It is so easy to use, bookings are a breeze but more importantly if you want to change/cancel or any amendment it is done with one click. On our old system is was clicking every single day to make the changes sometimes for the rest of the school year! but on here its one tick to change. Invoices are very professional and parents can download their own receipts for Universal Credit etc. This is just one side of the system but the best for me 🙂 Support is second to none, one message when you need help and in my experience they answer within about 15 mins! In setting they can use the registers quickly and easily, have 2 way contact with parents for absences and accident forms are a doddle. In all you must use this as your complete system if you run any sort of after school club/nursery.
Maria Tomkinson
25. February, 2022.
Love the system, the support team is EPIC, anything you need they sort for you and within 24 hours, highly recommend
stephen feeney
11. February, 2022.
This is the best nursery administration system on the market! Dave and his team are very helpful and knowledgeable! Thank you Dave for all your support over the years. If you are looking for a new system designed for nurseries this is the one you need!!!
Amanda White
26. January, 2022.
I have been using Nursery in a Box now since December 2021, having tried a couple of others systems. This is by far the easiest to navigate around and the team are so helpful. If you have any issues just do a ticket and they answer you query straight away. I would highly recommend this system.
Hedgehogs Leader
6. January, 2022.
The NIAB admin team are always very helpful, and have speedy responses! Nursery in a box is easy to use, and a great tool to have.